At the very start of the fall season this year, I made the decision to rewatch Gilmore Girls from the beginning. This is probably my fourth or fifth time watching all the way through (honestly, I can't keep track), but it had been a while since my last viewing and I figured there was no better time than fall to join Rory and Lorelai Gilmore on their Stars Hollow adventures.
Stars Hollow is the most perfect little town, and somehow it seems to be permanently stuck in autumn (with a tiny bit of winter mixed in). Given that it's been five or so years since I last watched the show, I noticed right off the bat that a lot of my opinions had changed.
For example, I decided that Dean is honestly not that bad when he and Rory are together the first time and that Jess and Rory's romance is really not what I remembered it to be. I could truly spend hours debating the show's relationships, but another thing my opinion has changed on is the fashion.
I used to think that Lorelai's style was absolutely wild and would never be worn by a real-life woman, but in rewatching the first few seasons, I decided that she actually has some extremely enviable looks.
She has a to-die-for coat collection and tons of gorgeous boots, and she mixes textures, such as leather and knits, seamlessly. The '90s and early 2000s style is back, and she really had some outfits that showed it off in the best way.
1. Black sweater dress + plaid coat + knee-high boots
Lorelai is the queen of mini-length skirts or dresses paired with knee-high boots, and I think this look is one of her best.
The all-black ensemble topped with a textured neutral coat is the fall and winter uniform of our dreams.
2. Collared sweater + faux fur jacket + flare jeans
When I was watching this episode, I literally thought to myself: I am obsessed with that coat and need a similar one immediately.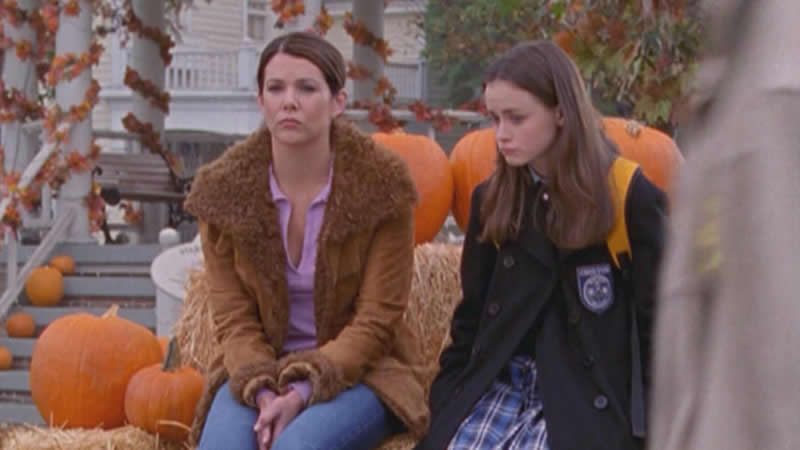 The bold pink sweater paired with the fur coat is another prime example of flawlessly mixing color, texture, and pattern.
3. Monochrome brown + leather blazer
This is the outfit that inspired this entire article. I am absolutely obsessed with the monochrome brown skirt and sweater combo, but the leather blazer over it really takes the cake.
I will definitely be recreating this look ASAP—just imagine how cute it would be for Thanksgiving.
4. Graphic tee + blue puffer + colorful beanie
When creating this particular outfit, I was trying to imagine what Lorelai would really wear on a casual winter day this year.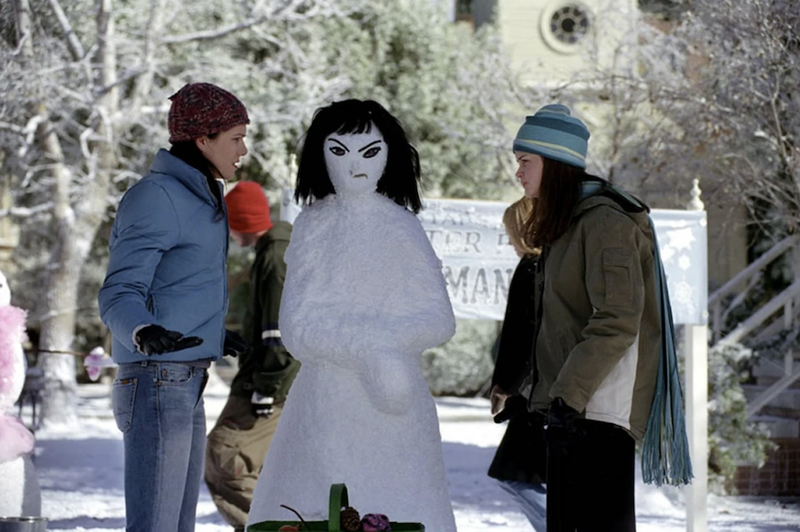 Leggings weren't really as popular when the show first aired, but I could definitely see her rocking this blue puffer and beanie combo with leggings and some fun sneakers if it happened today.
5. Button-up + sweater vest + black skirt
You might look at Lorelai's original outfit here and think: yikes. However, I saw it as a blueprint for a classic outfit combination that just needed some updating.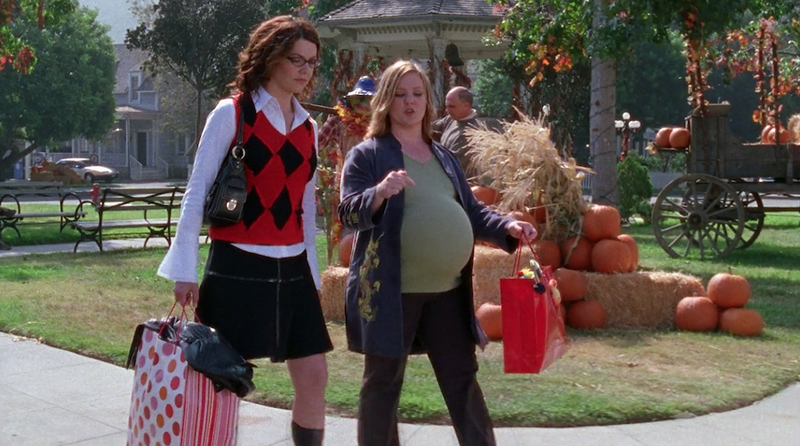 Sweater vests are extremely popular right now, and I love how they look paired with a white button-up and flouncy skirt.
6. White button-up + black pants + pink coat
Lorelai's pink coat is iconic, to say the least. She wore it a ton during season four, and a similar version even makes an appearance in the Year in the Life revival.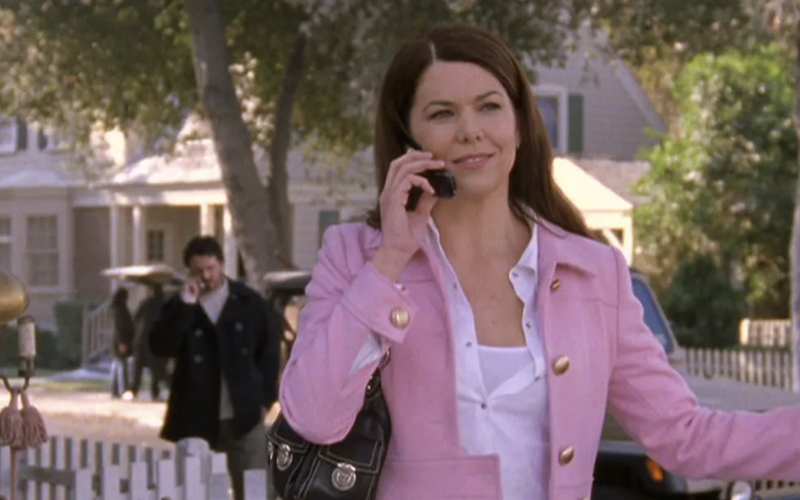 She was often wearing chic coats over classic business professional looks for her job at the inn, so a modern pink coat pair perfectly with a satin button-up and leather trousers.
(Photos Credit: (theeverygirl)